Mend
Talk

0
3,752pages on
this wiki
Mend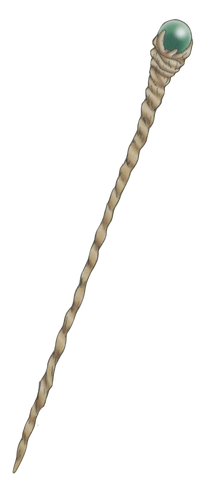 A Mend staff (リライブの杖 Riraibu no Tsue, lit. Relive) is a healing staff in the Fire Emblem Series, and is the superior counterpart to the Heal Staff. This staff is commonly utilized by healers with low magic, as it is capable of adding 20 points to the stat, allowing the wielder to heal most injuries more effectively. Owing to the availability of competent healers in the series, alongside the relative abundance and affordability of the Heal Staff, players in general thus tend to overlook the Mend Staff for its more versatile counterpart.
In Radiant Dawn, the Mend Staff is fairly safe for equipping healers with, as its weight allows them to inflict copious amounts of damage onto hostile units, provided that their Strength is high enough for them to do so.
In Shadow Dragon, as staves are nerfed to significantly reduce their users' Magic, alongside the fact that most healers tend to possess low Magic to begin with, the Mend Staff is thus extremely useful and sometimes necessary to carry out the most effective healing.
Weapon Stats
Edit
| Name | Type | Rank | Uses | Mt | Hit | Rng | Wt | Worth | Effect(s) |
| --- | --- | --- | --- | --- | --- | --- | --- | --- | --- |
| Relive | Staff | C | 50 | -- | -- | 1 | -- | 10,000 | Replenishes HP equivalent to (User's Magic +10) x2; Provides 20 EXP to the user. |
| Name | Type | Rank | Uses | Mt | Hit | Crt | Rng | Wt | WEx | Worth | Effect(s) |
| --- | --- | --- | --- | --- | --- | --- | --- | --- | --- | --- | --- |
| Mend | Staff | D | 20 | -- | -- | 10% | 1 | 4 | 5 | 1,000 | Replenishes HP equivalent to (User's Magic +20); Provides 12 EXP to the user. Allows its user to recover 15 HP when equipped. |