Meteor
Talk

4
3,752pages on
this wiki
Meteor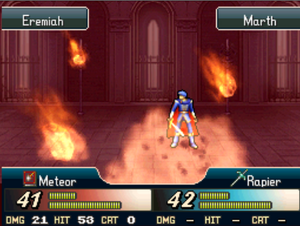 Eremiya casting Meteor on Marth in Shin Monshō no Nazo.
Meteor (メティオ Metio) is a recurring Fire Magic tome in the Fire Emblem Series. While this tome may be rather inaccurate, this is offset by the fact that it possesses the highest range out of all the other Fire Magic tomes available in the games, alongside being able to inflict just as much damage as Elfire can. However, as the tome tends to have exceedingly few uses in most of the games that it appears in, it thus loses its durability very easily.
The Meteor tome made its first appearance in Mystery of the Emblem, where it is an enemy-only spell and is far more deadly then the Worm spell.
In Genealogy of the Holy War, wielding the Meteor tome instantly reduces its user's movement to 0.
Weapon Stats
Edit
(Enemy only spell)