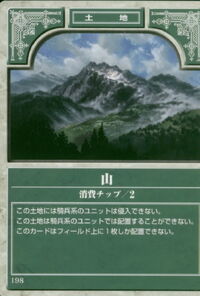 Mountain (山) is an outdoor terrain that is only passable by units that are not mounted, with the exception of Pegasi and Wyvern Riders, but gives a greater bonus than the Forest, providing +2 to Defense and +30 to Avoid. In the later 3-D Fire Emblem games, spaces with the terrain type mountain are impassible by all but Bersekers, Wyvern Riders, and Pegasus riders.
---
This article is a stub. You can help Fire Emblem Wikia by expanding it.
---
Ad blocker interference detected!
Wikia is a free-to-use site that makes money from advertising. We have a modified experience for viewers using ad blockers

Wikia is not accessible if you've made further modifications. Remove the custom ad blocker rule(s) and the page will load as expected.