Nomadic Trooper
Talk

0
3,753pages on
this wiki
This Class Article needs Stats adding!
This class article is missing stats from one or more games. Remove this template when they have been added.

Nomadic Trooper

Nomadic Troopers, in Fire Emblem: Binding Blade and Fire Emblem: Rekka no Ken, is the promoted version of Nomads, obtained through an Orion's Bolt used on a Nomad of Level 10 and above. They wield Swords and Bows, making them less vulnerable in direct combat.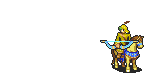 The closest equivalent in Path of Radiance is either Astrid, a Bow Knight, if she selects a secondary weapons mastery in swords, or Makalov a Sword Knight, if he selects a secondary weapons mastery in bows, both of which are chosen upon promotion to a Paladin; in Radiant Dawn, the third-tier Silver Knight bears the closest resemblance, however this class wields lances instead of swords. In Fire Emblem: The Sacred Stones, a Ranger is roughly equivalent to a Nomadic Trooper. Also, Horsemen share similarities to Nomadic Troopers as well.
Notable Nomadic Troopers
Edit
Uhai - An original Black Fang member who is referred to as the Soaring Hawk and is very honorable. He is later made into a Morph as shown in the final chapter.
Possible Promotion for Rath