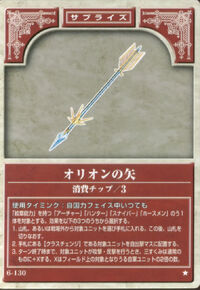 An


Orion's Bolt (オリオンのボルト) is an item in the Fire Emblem series that is used to "Class change" Archers that are level 10 or up into Snipers or Rangers. In Fire Emblem: Rekka no Ken and Fire Emblem: Binding Blade, it was also used on Nomads to turn them into Nomad Troopers.
It can be obtained either by going into secret shops and purchasing them for about 10,000-20,000 gold, by getting it from a boss or other enemy (either stealing or killing them for it), or as a reward for completing a bonus goal during a chapter. An example of this is in Fire Emblem: The Sacred Stones, when the player will receive the Orion's Bolt if they have completed Chapter 6 and have successfully saved all three Renais refugees.
Etymology
Edit
Orion is the name of a constellation named after a hunter in Greek Mythology.