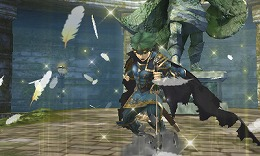 Overclass (オーバークラス Ōbā Kurasu) is a gameplay element introduced in Fire Emblem Echoes: Shadows of Valentia.
Overclasses are an additional tier of classes that are available through paid DLC in Echoes. By visiting a Shrine dedicated to ancient exiled gods or their servants, units that are Level 20 in their highest-tier available class will be able to ascend further into a new class with special abilities.
List of overclasses
Edit
According to the director of Echoes, The "over" in "overclass" connotes not only being situated above other things, but also of otherworldliness and the surpassing of limits.
Ad blocker interference detected!
Wikia is a free-to-use site that makes money from advertising. We have a modified experience for viewers using ad blockers

Wikia is not accessible if you've made further modifications. Remove the custom ad blocker rule(s) and the page will load as expected.