This Article needs an Image!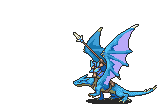 This article is in need of an image(s). Remove this template when an image(s) have been added. If you are unsure whether or not an image is appropriate, please discuss it on the Talk Page.


"Now, now, Lady Amalda... I understand how you feel, but Emperor Alvis himself has approved of the child hunting. Sooner or later, all the children in this area will be sent to the Imperial capital. Just you protesting on your own won't make a difference."
—Palman
Palman is a boss character encountered in Fire Emblem: Thracia 776.
This article is a stub. You can help Fire Emblem Wikia by expanding it.