Perceval
Talk

0
3,753pages on
this wiki
Perceval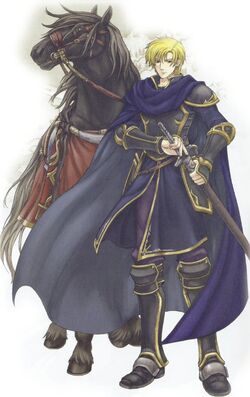 "Let us fight together for the future of Etruria!"
—Perceval to Douglas in a support conversation in Binding Blade

Perceval (パーシバル Pāshibaru, Percival in the fan translations) is a playable character in Fire Emblem: Binding Blade and the Knight General of Etruria. He is forced to fight for Bern when Etrurian deserters capture King Mordred and force him to switch alliances. Despite his actions, he remains extremely loyal to Prince Mildain and King Mordred of Etruria. Upon seeing Elphin, he is shocked to discover that Prince Mildain is alive and well and chooses to abandon the corrupt leaders of the Bern military, joining the Lycian Alliance for the good of Etruria. He can also be recruited with Lalum.






Binding Blade
Edit
Base Stats
Edit
Normal Mode
*Chapter 15 only
Hard Mode
Note: Perceval's stats increase only on Chapter 15.
*Chapter 15 only
Growth Rates
Edit
Perceval is often ignored by many players since he is already promoted. However, as a level 5 Paladin, his starting stats are relatively decent. His stat growths are not that great, but not as bad as Marcus or Zelots. Still, he may be a very useful unit if the player lacks any good Paladins. He is the most fitting substitute for Alen, Lance or Noah/Trec if the player does not want to go to the trouble of promoting them.
Awakening
Edit
Base Stats
Edit
*Enemy only, joins unequipped
Character Ending
Edit
Perceval - Knight Among Knights (騎士の中の騎士 Kishi no naka no kishi)
Perceval returned to Etruria where he rose to become the new Great General. He then continued to climb up the ladder of glory where he ended up as the king's personal advisor. His name was remembered for generations as the model of the Etrurian knight.
Etymology
Edit
Perceval was one of King Arthur's legendary Knights of the Round Table, famous for his involvement in the quest for the grail. The name is believed to have been derived from old French percer and val, which means "to pierce the valley".