Phantom Ship
Talk

1
3,754pages on
this wiki
Phantom Ship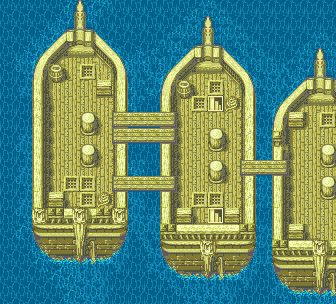 "General Duessel tells them of the enigmatic Dark Stone. The product of Grado's research into the dark arts, the Dark Stone possesses power far beyond that of the Sacred Stones. According to the rumors swirling about, Vigarde's descent into madness coincides with the creation of the Dark Stone. Ephraim must confirm the existence of the Dark Stone. He decides to travel to Grado by sea. Midway through their passage, however, an eerie fog begins to form..."
—Opening Narration
Phantom Ship is Chapter 11 of Fire Emblem: The Sacred Stones when playing Ephraim's route. In this chapter Ephraim and his group fight the monster crew of the mysterious Phantom Ship. It also revealed in this chapter that the leader of the Phantom Ship is Grado's general Riev.
Turn 2: Enemies appear from the phantom ship, as the ship comes close to Ephraim's ship.
Turn 3: The phantom ship will pull alongside Ephraim's ship and planks appear across the two ships.
Turn 5: A second ship appears and puts planks across to the central ship. However, this time L'Arachel and Dozla appear from the ship as NPCs.
Enemy Reinforcements
Edit
Turn 3: 2 Mogalls from the north west and 2 Mogalls from the south west
Turn 4: 2 Bonewalkers from the stairs of the central ship, 2 Gargoyles from the north east and 2 Mogalls from the south east
Turn 5: 2 Bonewalkers from the stairs of the central ship, 2 Gargoyles and 1 Deathgoyle (boss) from the west
Turn 6: 2 Bonewalkers from the stairs of the central ship