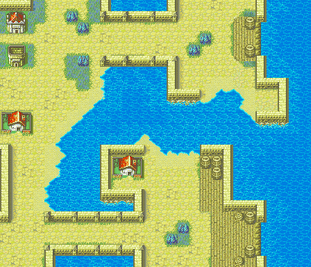 Port Kiris is the location of chapter nine, Eirikas route, in Fire Emblem: The Sacred Stones. It is located in the north on the continent of Magvel and resides within the borders of Carcino. It is a large port town that seems to be very populated.
During the story Eirika travels here to sail to the Melkaen Coast and thus into Rausten, however she is attacked and also receives information of Innes' plight, so she detours.
Monsters never spawn at this location during the Creature Campaign or main story.
---
This article is a stub. You can help Fire Emblem Wikia by expanding it.
---
Ad blocker interference detected!
Wikia is a free-to-use site that makes money from advertising. We have a modified experience for viewers using ad blockers

Wikia is not accessible if you've made further modifications. Remove the custom ad blocker rule(s) and the page will load as expected.