Pugo
Talk

0
3,754pages on
this wiki
This Character Article needs Stats adding!
This character article is missing stats from one or more games. Remove this template when they have been added.

Pugo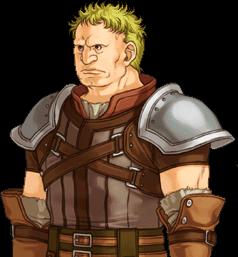 "Listen up, you louts! This town is nothin' but idiot kids and drooling graybeards. Steal everything you can!"
—Pugo
Pugo (ブーゴ Būgo) is a boss character from Fire Emblem: Radiant Dawn. He is a bandit from Daein making use of the Begnion occupation to rob villagers. Micaiah and her friends cannot stand this banditry and come to the rescue. He is the boss in the Prologue of the first part of Radiant Dawn.
Character Data
Edit
Boss Stats
Edit
Easy Mode
Normal/Hard Mode
Biorhythm
Edit

Place Edward in front of him. Make sure Edward has all his hit points, because, if the Pugo hits him, he will lose a good amount of hit points. After this, during the Player Phase, Leonardo and Micaiah can assault him with ranged attacks. He isn't too difficult, as long as you stick to this strategy.
Battle Conversations
Edit
Pugo: Who do you think you are, the Dawn Brigade?
Pugo: You give proper thieves a bad name. Hah! You like charity? Come closer! I'll show you some charity!
Micaiah: These people work hard to feed their families mere scraps. Then you come along and steal what little they've earned.
Pugo: Shut up, kid! I work hard, too! You want honest? Once I've sold you, I'll have earned an honest penny!
Death Quote
Edit
Pugo: Aghhh! What just happened?