Pure Water
Talk

0
3,752pages on
this wiki
Pure Water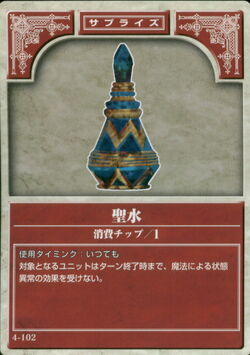 Pure Water (聖水 Seisui) is the name of a (temporary) stat-boosting item in the Fire Emblem series of games. The Pure Water item is one of the original combat-use items of the series, in the beginning of the series very few items existed that were useful in combat other than the Vulnerary. However, the Pure Water offers a decent effect that can come in handy in several situations.
The Pure Water raises a character's resistance and gradually drops down to normal. Right after use a number will appear next to the character's resistance stat with an addition sign (+) in between them. In most games the bonus will begin with a +7 and drop by 1 each turn after the Pure Water has been used. In all the games Pure Water is in (with the exception of Fire Emblem: Thracia 776).
In the original games, Pure Water was less common because a character's inventory was limited and they needed the room for the all important weapons. However, in the later games in the series such as Fire Emblem: Path of Radiance and Fire Emblem: Radiant Dawn, characters have much larger inventories leaving room for any extra items that may come in handy, such as the Pure Water.
Pure Water is usually given to characters with low resistance (for obvious reasons). Players usually like to give it to Knight/Generals since resistance is their major weakness, when given the resistance boost they can become a very effective fighting unit.
Item Information
Edit
Uses: 5
Worth: 1,450
Effects: Increases Resistance by 7 (Effect decreases by 1 each turn)
Uses: 3
Worth: 1,200
Effects: Increases Resistance by 7 (Effect decreases by 1 each turn)
Location(s): Book 1 Chapter 15 (Chest), Book 2 Chapter F-2 (Chest)
Uses: 1
Worth: 1,000
Effects: Increases Magic by 7 (Effect decreases by 1 each turn)
Uses: 3
Worth: 900
Effects: Increases Resistance by 7 (Effect decreases by 1 each turn)
Uses: 3
Worth: 900
Effects: Increases Resistance by 7 (Effect decreases by 1 each turn)
Uses: 3
Worth: 900
Effects: Increases Resistance by 7 (Effect decreases by 1 each turn)
Location(s): Chapter 8 (Enemy Priest)
Uses: 3
Worth: 900
Effects: Increases Resistance by 7 (Effect decreases by 1 each turn)
Location(s): Chapter 1-4 (Chest)
Uses: 3
Worth: 600
Effects: Increases Resistance by 7 (Effect decreases by 1 each turn)
Location(s): Chapters 19 (Chest), 23 (Enemy Curate)
Uses: 3
Worth: 600
Effects: Increases Resistance by 7 (Effect decreases by 1 each turn)
Location(s): Chapters 5 (Enemy Mage), 10 (Enemy Bishop), 16x (Enemy Berserker)