Queen (Playable class)
Talk

0
3,752pages on
this wiki
Queen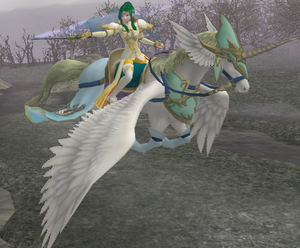 Queen is a third-tier class unique to Elincia in Fire Emblem: Radiant Dawn. The Queen Class could possibly be called the promoted version of the 2nd Tier class Elincia had in Fire Emblem: Path of Radiance, Princess Crimea.
Characteristics
Edit
The Queen Class is considered to be a variation of the Pegasus Classes. Elincia rides a Pegasus and is capable of using both swords and staves. The ability to use a sword is somewhat like the 2nd Tier Class Falcon Knight, who also ride Pegasi. It is one of three airborne classes in the series that can wield staves, the other being Elincia's Path of Radiance class, "Princess Crimea". Additionally, Falcon Knights in Fire Emblem: Genealogy of the Holy War and Fire Emblem: Awakening can use some staves as well. Elincia's stats are somewhat contradictory, she has a high Magic stat, yet her special sword uses strength to attack. Like other variations of Pegasus classes Elincia has relatively high speed and decent skill as well.
Elincia also is one of the only units who can wield the Amiti blade, the royal sword of the country of Crimea, the other being Renning. Although the sword does use Strength to attack, Elinica has a relatively low Strength stat. This is somewhat made up for with the fact that the Amiti is decently powerful. It acts like a 'Brave weapon' and automatically hits the opponent twice (four times if Elincia can double them). Being a powerful blade with the Brave ability that has infinite uses, this more than makes up for her low Strength.