Shadowshot
Talk

0
3,754pages on
this wiki
Shadowshot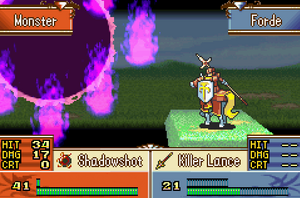 An enemy Gorgon casting Shadowshot on Forde.
Shadowshot (暗黒の魔弾 Ankoku no mahi, lit. Magical Shots of Darkness) is an monster-only spell from Fire Emblem: The Sacred Stones. Primarily used by Mogalls, Arch Mogalls, and Gorgons, this spell will cause a ring of magenta-colored flames to materialize in the air, giving rise to a vortex of darkness. This vortex is then warped to the selected enemy target, engulfing him/her momentarily before exploding. As the most powerful and accurate long-range magic spell in the game, players should thus exercise caution when encountering wielders of the Shadowshot spell in the game.
Weapon Stats
Edit
When obtained through the enemy control glitch, this spell may be used by any unit, regardless of whether they are physical or magic-based. However, only magic-based units will display battle animations when casting the spell.