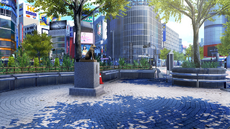 Shibuya is a ward of Tokyo and a prominent location in Tokyo Mirage Sessions ♯FE.
Overview
Edit
Shibuya is a shopping and fashion hub of Tokyo. Some of its best known landmarks are the Hachiko statue located at the Shibuya Station and the Shibuya 109 building (referred to as the Shibuya 106 building In Tokyo Mirage Sessions). It is also known for its scramble of crosswalks filled with heavy foot traffic.
In Tokyo Mirage Sessions, Shibuya is the largest explorable space in the game, outside of the Idolaspheres, and is home to several prominent sites:
Other businesses that line the streets cannot be entered, but can be interacted with at points for the purposes of side quests.
Etymology
Edit
Shibuya's name comes from the Shibuya clan, which resided in a castle in the region for many centuries.
Ad blocker interference detected!
Wikia is a free-to-use site that makes money from advertising. We have a modified experience for viewers using ad blockers

Wikia is not accessible if you've made further modifications. Remove the custom ad blocker rule(s) and the page will load as expected.