Siblings Abroad
Talk

0
3,754pages on
this wiki
Siblings Abroad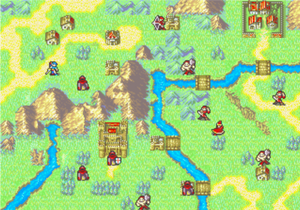 Background
Edit
"Lyn takes her leave of Araphen, finding no aid from its spiteful marquess. Now, she and her companions resume their march toward Caelin in earnest. Racing against time, with her grandfather's life the prize. Harried and impatient, Lyn presses onward. Suddenly a young boy appears and pleads for their assistance."
Chapter Information
Edit
Siblings Abroad is Chapter 7 of Fire Emblem: Rekka no Ken.
Passing through Kathelet, Lyndis and co. encounter Nils, a traveling bard, who begs Lyn to rescue his sister, Ninian, from some thugs. At first Kent objects, but when Lyn says she wants to help Nils, he gladly decides to help. Before the battle begins, Lucius, an Elimine monk, appears from a nearby inn and offers his assistance.
This chapter introduces the Preparations screen, as well as the Trinity of Magic. Also introduced in this chapter is the Bard class.
Finally, this chapter has the first potential Gaiden chapter. In order to unlock Chapter 7x:The Black Shadow you need to finish this chapter in 15 turns or less.
Initial Enemies (Total: 11)
Edit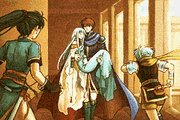 * dropped when defeated.
Reinforcements (Total: 0)
Edit
None