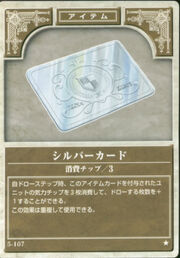 The
Silver Card(シルバーカード) is an item that, when equipped to a character, is able to purchase items and weapons in armories and shops for half the original cost. The selling price would then be equal to the purchase price for that character. There is only one Silver Card available in each game.
In Radiant Dawn, unlike other games, this item will disappear after you leave the base.
In Fire Emblem: Shadow Dragon, the Silver Card cannot be used in the Battle Preparations Menu or the Online Shop.
In Fire Emblem: Awakening, the Silver Card only needs to sit in the Convoy to grant it's effect. It can be sold but only gives 0 gold. It does not need to be equipped by a unit.
Locations
Edit