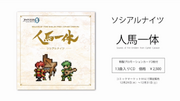 Sounds of Fire Emblem from Cipher Caravan – Horse and Rider as One is a soundtrack disc sold exclusively at Comiket 91. Composed by the sound director and music composer of Fire Emblem Fates, Hiroki Morishita and Takeru Kanazaki, the CD contains tracks from throughout the Fire Emblem series. Each CD comes with a pair of Cipher promotional cards of pixel Cain and Abel.
List of tracks
Edit
Ad blocker interference detected!
Wikia is a free-to-use site that makes money from advertising. We have a modified experience for viewers using ad blockers

Wikia is not accessible if you've made further modifications. Remove the custom ad blocker rule(s) and the page will load as expected.