Starlight
Talk

3
3,753pages on
this wiki
Starlight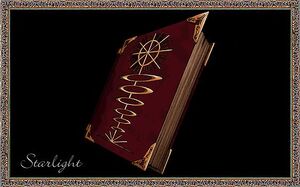 Artwork of the Starlight tome.
Starlight (スターライト Sutāraito) is a sacred magic tome from the Akaneia Series of the Fire Emblem franchise. Forged from the Lightsphere and Starsphere, this tome is essentially used to counter the sealing effects of the Imhullu spell. When cast, this spell will call upon the mystical, prophetic energy of the stars into battle, manifesting itself in the form an azure-coloured energy. This energy will swirl around the selected enemy target, entrapping him/her in its celestial divinity before combusting.
The creation of this tome essentially caused the Starsphere to shatter into twelve individual fragments, with each one symbolically representing a zodiacal constellation. These fragments were then scattered all over the continent of Akaneia, prompting Marth's army to collect them in order to reconstruct the Starlight tome once again.
In the sub-plot of Monshō no Nazo, the Starlight tome is initially stolen by Gharnef, but is later recovered by Michalis after the two of them engage each other in a fierce fight to the death.
Although the Starlight tome technically does not have a magic type, it is most similar to Light Magic spells and has been categorized with them.
Weapon Stats
Edit