Sword of Seals
Talk

5
3,777pages on
this wiki
Not related or to be confused with Akaneia's Shield of Seals. For the game sometimes known as Fire Emblem: Sword of Seals in the Japanese version, see here. For the chapter of the same name, go here.
Sword of Seals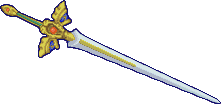 The Sword of Seals (封印の剣 Fūin no Tsurugi) is a sword wielded by the hero Hartmut alongside Eckesachs during the Scouring. The blade is said to be stronger than the Divine Weapons. After defeating Idenn, Hartmut decided to have pity on her, and used both the sword and the Fire Emblem to seal her in the Dragon Temple. After the Scouring ended, the sword was placed in the Shrine of Seals alongside Bramimond and his spell Apocalypse. Later, the sword would be unsealed by Roy and used to defeat Zephiel and a revived Idenn.
It is Roy's weapon of choice in Super Smash Bros. Melee, and more damage is done at the center of the sword.
The critical animation of the melee attack is noticeable with the distinctive flame appearing out of the sword when Roy initiates the attack. The ranged critical animation, however, is hard to tell, because Roy shoots off the flame from his blade in both cases, and the only way to tell that the attack is critical is from the distinctive critical "clash" sound.
In the manga Fire Emblem: Hasha no Tsurugi, the sword is used by Zephiel, and Roy acquires it after it is knocked from Zephiel's grasp.
*Preference = Roy