Taguel
Talk

0
3,946pages on
this wiki
Taguel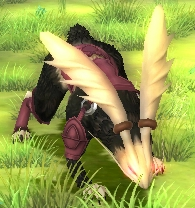 Panne's transformed Taguel form in Awakening.
The Taguel is a new class and race introduced in Fire Emblem: Awakening. Taguels transform from their humanoid form to a beast form using Beaststones.
The Taguel was once a massive race of beast-people who could shift into various animals in a manner similar to the Beast-tribe Laguz until a large genocide wiped out much of the Taguel population. This left one sole survivor who can transform into a rabbit-like form. However, Taguels are capable of mix-breeding with humans, resulting in children who can shapeshift like their Taguel parent. This would be a necessity in order to keep the race alive, as if Panne did not have children, the race would have gone extinct.
Taguels keep their beast unit status regardless of what class they are in such as Panne adding her beast unit status to the Wyvern Rider and Wyvern Lord dragon and flying unit statuses.
On the plus side, the Taguels's weapons of choice, the Beaststone and Beaststone+, gives them large bonuses especially in the Skill and Speed stats, giving them an edge against slower enemies and allows the wielder to use skills that requires a high Skill stat to be used more effectively, such as Luna or Astra. Also, the Beastbane skill is useful since there are a lot of Beast-status units available in the game compared to its draconic counterpart Wyrmsbane from their shape-shifting brethren Manakete. Finally, Taguels's Beast-status makes them vulnerable to only two types of units : Beastbane Taguels and Beast Killer-wielding units. While the former can only be encountered via StreetPass battles, the latter can be encountered as enemies in the game, since there are many Lance-wielding units that can use this weapon, so caution must be taken. Getting the Lancebreaker skill can alleviate the Beast-status weakness by a good margin.
On the minus side, unlike the Manaketes, Taguels are restricted to a one-square attack radius, meaning Sages and Snipers units can pick them off from far away with no risk of counter-attack. Also, units with fairly high defenses such as the Generals and Great Knights can tank the Taguel's blows, especially when they are equipped with the Aegis skill and the Beast Killer lance.
Maximum Stats
Edit
HP: 80
Str: 35
Mag: 30
Skl: 40
Spd: 40
Lck: 45
Def: 35
Res: 30
Notable Taguel
Edit
Panne - The last of the Taguel.
Yarne - Panne's son from the future.
Morgan - If the father is Yarne or the mother is Panne.