The Ageless Palace
Talk

0
3,754pages on
this wiki
The Ageless Palace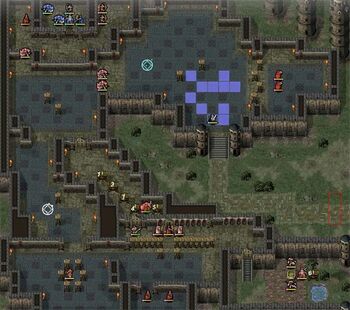 "The holy kingdom of Akaneia had come into being six centuries earlier, when the region's numerous city-states were unified under one monarch. The first king, Adrah, had fought valiantly to accomplish this, wielding the three weapons he came to call his regalia- gifts from the gods, some said. The kingdom Adrah forged was pronounced holy; its kings were esteemed. With Akaneia's aid, six more independent kingdoms sprang up in their own time. But Akaneia was always the greatest- and now, Marth was about to take his first walk through its historic palace's halls."
—Opening Narration
The Ageless Palace is Chapter 12 of Fire Emblem: Shadow Dragon.
You will find that there are 2 bosses in this level.
If Midia, Macellan, Tomas, Dolph and Boah survive, they will join you.
Strategies
Edit
This chapter isn't difficult, but medium; there are thieves here, so don't let them get to the chests. Reinforcements in this place can give good EXP to your units.
Marth (using the Fire Emblem) and Julian can open all chests and open the door that holds Midia, Tomas and the others.
There is a Manakete in the castle. He will not move until you approach, and has an obtainable Vulnerary.
The first boss (Volzhin) has 2 healers of him side, you should kill them and make a triple attack to kill the boss without problems.
The second boss (Heimler) won't stay calm, in the second turn, he will open the door and begin to attack you, so be careful. While you don't need to kill him, he does have a valuable Master Seal.
Enemy Reinforcements
Edit
Two Cavaliers and one Horseman will appear from the east during Turns 2, 4, 6 and 8 of the Enemy Phase. You can prevent these reinforcements from appearing by defeating the boss.