The Dragonkin Realm
Talk

0
3,753pages on
this wiki
The Dragonkin Realm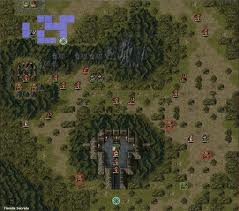 "Doluna...Land of the Manaketes. Before Medeus, the dragonkin had few dealings with the human realm, but when the Shadow Dragon came, everything changed. He sunk all Akaneia into a cycle of war, in which heroes rose and heroes fell- always claiming his cause was just and the human deaths deserved. But now Medeus's empire was crumbling...He was nearing the end of his reign...even as Marth was nearing then end of his long quest."
—Opening Narration
The Dragonkin Realm is Chapter 24 of Fire Emblem: Shadow Dragon.
Enemy Reinforcements
Edit
A Bishop, Hero, Pegasus Knight and three Manaketes will appear from the surrounding Forts from turn 7 and every three turns after that (10, 13, 16, e.t.c), Until either the boss is defeated, or turn 49 has passed.
Seeing as the title of this chapter is "The Dragonkin Realm," you can expect there to be a decent amount of manakete in this chapter, and luckily there is an armory near your deployment that sells dragonpikes and wyrmslayers if you have run out of dragon-slaying weaponry. The Falchion also comes in handy here. In the southwest of the map, a little temple with one chest holds the Aum Staff. However, there is a thief who starts off closer to the temple than your army does, so it is important to kill the thief before he makes off with the staff. A ballistician such as Beck or possibly Jake is useful for taking out the thief. There is a small passageway over which you can cross the mountains to the south of your deployment if you wish to send some units in that way, although it can be somewhat cramped and risky, seeing as there are a couple snipers and mage dragons on the other side of the passage, which is important to note as mage dragons are immune to magic (the boss, Xemcel, is a mage dragon as well). Finally, there is also a secret shop on this map, in case you needed some rare or important items.
If you want to advance to the Gaiden Chapter (Chapter 24x: A World Apart) you must have Tiki dead (or not recruited) and the Falchion not in possession, although you can have Tiki killed and then resurrect her with the Aum Staff later.