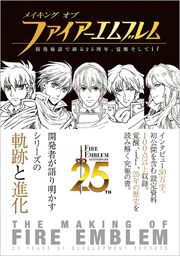 The Making of Fire Emblem 25th Anniversary Development Secrets, Awakening and Fates (メイキング オブ ファイアーエムブレム 開発秘話で綴る25周年、覚醒そしてif単行本) is a design book providing the developement information and secrets of the Fire Emblem series, from the beginning of the series to the latest releases of Fire Emblem Awakening and Fire Emblem Fates.
Basic Info
Edit
Release date: November 11, 2015
Publisher: Nintendo / INTELLIGENT SYSTEMS
Language: Japanese
External links
Edit
---
This article is a stub. You can help Fire Emblem Wikia by expanding it.
---
Ad blocker interference detected!
Wikia is a free-to-use site that makes money from advertising. We have a modified experience for viewers using ad blockers

Wikia is not accessible if you've made further modifications. Remove the custom ad blocker rule(s) and the page will load as expected.