The Neverending Dream
Talk

0
3,754pages on
this wiki
This article or section needs to be cleaned up, either its format, general style, or wording. It may be minor or major, but even subtle changes matter.
The Neverending Dream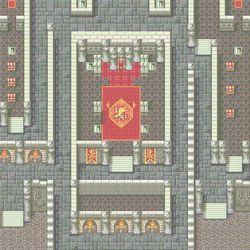 "After obtaining the Sword of Seals, Roy directed his troops towards Bern's capital where King Zephiel was waiting. Inside the castle, Zephiel awaited with his personal guards at hand. Roy prepared to charge the castle to end this war, and to bring peace to Elibe again."
—Opening Narration
The Neverending Dream (見果てぬ夢 Mihatenu yume) is, unless the player gets all the sacred weapons, the final chapter of Fire Emblem: Binding Blade.
The battle is inside Bern's castle. The allies are divided into two groups, each one on the bottom right and left part of the map. To reach Zephiel, who is locked inside on the center on the map, it's necessary to activate two switches on the uppermost right and left corners, defeat the enemies who protect them, and order an ally to end his turn above it. But activating both doors won't open the door immediately, so Roy must stand in front of the central door and Equip or Use the Sword of Seals and finish his turn in front the door (it's not suggested to select the "Use" command, despite it healing Roy, as it consumes a use of the Sword of Seals). After a conversation between Roy and Zephiel, the door will open, also showing very powerful enemies, especially 2 Manaketes.
Reinforcements:

Turn 10: 2 Bishop from the enclosed square on the uppermost central part (the left one equips Silence, Divine and Physic, and the right one has Sleep, Divine and Physic). They will appear every five turns until 40th turn.
Turn 15: 1 Thief from left side, near from the chests.
After opening the door: 2 hero, 1 Sniper and 1 Druid from both bottom corners (where units start the battle).
Chests:

Upper chest from left side: Sleep.
Middle chest from left side: White Gem.
Bottom chest from left side: Nosferatu.
Upper chest from right side: Wyrmslayer.
Middle chest from right side: Dragonshield.
Bottom chest from right side: Swordreaver.