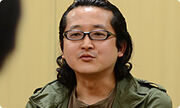 Toshiyuki Kusakihara (草木原俊行) is video game developer at Intelligent Systems and currently a lead developer on the Fire Emblem series. Kusakihara first began working on the series, as director of Fire Emblem Wii, a prototype meant to follow up from Fire Emblem: Radiant Dawn. However, as its predecessor was a commercial disappointment and the prototype failed to come together, development on the title was cancelled.
Kusakihara was later brought on as art director for Fire Emblem: Awakening after the departure of Daisuke Izuka, as producer Masahiro Higuchi wanted an artist who could bring a fresh and radical new look to the series. Kusakihara recruited famed illustrator Yusuke Kozaki to work on the character design, and together they helped make Awakening one of the most successful games in franchise history. In 2015, Kusakihara and Kozaki once again collaborated on development of Fire Emblem: Fates, another massively successful entry in the series.
Following the release of Fates, Kusakihara worked as lead director on Fire Emblem Echoes: Shadows of Valentia, this time collaborating with Hidari as his character designer. 
Fire Emblem Related Credits
Edit
Ad blocker interference detected!
Wikia is a free-to-use site that makes money from advertising. We have a modified experience for viewers using ad blockers

Wikia is not accessible if you've made further modifications. Remove the custom ad blocker rule(s) and the page will load as expected.