Ad blocker interference detected!
Wikia is a free-to-use site that makes money from advertising. We have a modified experience for viewers using ad blockers

Wikia is not accessible if you've made further modifications. Remove the custom ad blocker rule(s) and the page will load as expected.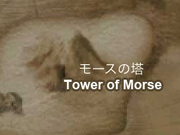 The Tower of Morse is a location from TearRing Saga: Utna Heroes Saga. It is located in the south east of Lieberia that once served as a prison. It is said that the White Master Morse took residence in the tower to ease the suffering of the prisoners. The priestess Meeme resides on the top floor of the tower.
When the tower is visited by Holmes and his companions, it is full of monsters. When they reach the top floor, they are asked by Meeme if they wish to revive a fallen ally using the ☆Dakruon.
Krisheenu travels there to revive her deceased lover, Algo, with the ☆Dakruon, but she is unable to do so due to his death having happened too long ago.