Trueblade
Talk

4
3,753pages on
this wiki
Trueblade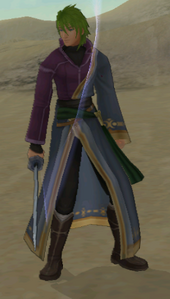 A Trueblade is the third-tier promotion in the Myrmidon branch, promoting from the Swordmaster. The class itself is exclusive to Radiant Dawn. Their occult skill is Astra, which allows for 5 consecutive attacks.
Statistically, Trueblades are one of the fastest classes in Radiant Dawn. Also, they have very high skill, which makes them incredibly powerful in combat.
Their Japanese name, Kensei (Sword Saint/Saint of Swords) a title possessed by the historical swordsman Miyamoto Musashi, is also used by Odo, founder of the nation of Isaach in Fire Emblem: Genealogy of the Holy War; Karel, a wandering Sacaen swordsman from Fire Emblem: Binding Blade and Fire Emblem: Rekka no Ken; and Guy, a swordsman from the Kutolah tribe of Sacae in Fire Emblem: Rekka no Ken.
Maximum Stats
Edit
Notable Trueblades
Edit
Stefan - A Branded swordsman who resides in the Grann Desert.
In the PAL version, Astra is known as Astrum; however, when looking at a Trueblade's description, it is still called Astra.