Urvan
Talk

0
3,753pages on
this wiki
Urvan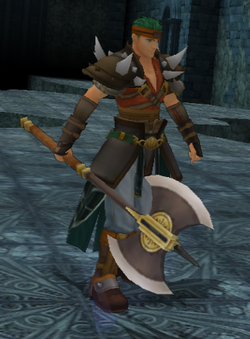 Boyd wielding the Urvan Axe.

Urvan was the axe used by Greil after he had cut the tendons in his sword arm. In the last parts of Fire Emblem: Radiant Dawn, Caineghis passes the axe back to Ike, which had been previously used as a marker of Greil's grave.
Urvan is the most powerful axe in Fire Emblem: Path of Radiance and Fire Emblem: Radiant Dawn (although it is in fact unused in Path of Radiance). In Fire Emblem: Radiant Dawn, it sat as one of the 11 SS-ranked weapons.
Weapon Data
Edit
Path of Radiance (Unused)
Edit
Radiant Dawn
Edit
Locations
Edit
Part 4, Endgame: Base conversation.