Comments

5
My Speculations for the Fire Emblem: Mystery of the Emblem DS
Ad blocker interference detected!
Wikia is a free-to-use site that makes money from advertising. We have a modified experience for viewers using ad blockers

Wikia is not accessible if you've made further modifications. Remove the custom ad blocker rule(s) and the page will load as expected.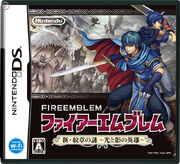 I thinking that the
Fire Emblem: Mystery of the Emblem DS
English & the PAL translation might be still under in development and might release sometime in Late 2011 or in 2012.
There are a few games that released 2 years after the Japanese Release.
Like:
Pokemon: Red & Blue
Jap: 1996 & US: 1998
Professor Layton 2-4
Professor Layton and the Diabolical Box
Jap: 2007 & US: 2009
Professor Layton and the Unwound Future
Jap: 2008 & US: 2010
Professor Layton and the Last Specter
Jap: 2009 & US: 2011
Super Mario Bros. 3
Jap: 1988 & US: 1990