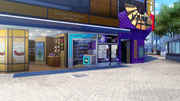 Uzume Lesson Studio is a location in Tokyo Mirage Sessions ♯FE.
A training studio located in Shibuya owned and operated by Barry Goodman. The facility is commonly used by Fortuna Entertainment for training its represented talent. Visiting the studio during an Intermission phase will end the intermission and begin the next chapter.
The facility is named for Ame no Uzume, a demon in the Shin Megami Tensei series, and the Japanese goddess of dance. According to Japanese legend, Ame no Uzume helped lure the sun goddess Amaterasu out of hiding by performing a dance that made the other gods laugh.
Ad blocker interference detected!
Wikia is a free-to-use site that makes money from advertising. We have a modified experience for viewers using ad blockers

Wikia is not accessible if you've made further modifications. Remove the custom ad blocker rule(s) and the page will load as expected.