Vasto
Talk

0
3,968pages on
this wiki
Vasto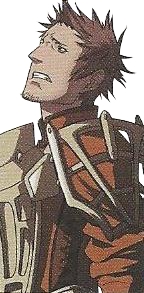 "Smell that, men? The winds of fortune are blowing our way!"
—Vasto in Chapter 7
Vasto (オリオ Orio, Olio in the Japanese version) is an enemy boss character from Fire Emblem: Awakening. He and his men attack Chrom and his forces as they are trying to flee the capital. He eventually falls in battle to Chroms's forces.
Vasto is shown to be overconfident and cocky, claiming that there will be statues made in his honor after he defeats Chrom. He also shown to be very cruel, insulting the Hierarch for betraying his comrades and has him killed by a barbarian, instead of taking him into protection as he was told to do.
Boss Stats
Edit
* - Dropped when defeated.
* - Dropped when defeated.
"I'll splatter you across the canyon floor!"
—Vasto's pre-battle quote.

"You doves think...killing me will change anything? Heh... Even now, my brothers storm across your precious border... Go on, dear exalted coward! Run! Flee while they slaughter your subjects! Save yourself... Let their faith in you... bleed away...with the rest..."
—Vasto's death quote
Etymology
Edit
Olio means "oil" in Italian. It also means "creature" in Finnish.
Vasto means "wide" in spanish.
According to Ricken and Henry's B Support, Vasto laughed and talked a lot, especially about his mother, and was proud of his mother's knitting.
He is one of the few minor bosses in the game that doesn't share his own portrait with the other bosses.