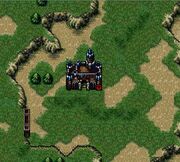 Velthomer is one of the six dukedoms of the Kingdom of Grannvale in Fire Emblem: Genealogy of the Holy War and Fire Emblem: Thracia 776. It was founded by Fala, the Mage Fighter, and ruled by Arvis during the present. The Fire Magic Valflame is passed down the Velthomer family, and this is why Velthomer is home to many Fire Mages. Their knight squadron is known as Roten Ritter and it is led by Arvis as well, being deputed by Aida.
When the Grannvale Empire was formed, Velthomer was then used as a base of operations for the Lopto Sect, while the Roten Ritter became Arvis' imperial guard.
During the final chapter of Genealogy of the Holy War, Manfroy and his strongest dark mages guarded the castle, after he took Julia there and brainwashed her. It is also revealed that the Book of Naga was stored in a vault in Velthomer castle, with the key being Empress Deirdre's Circlet. It is explained in the ending that the family crest of Velthomer is called the Fire Emblem.
Notable citizens of Velthomer
Edit