Victory or Death
Talk

0
3,752pages on
this wiki
Victory or Death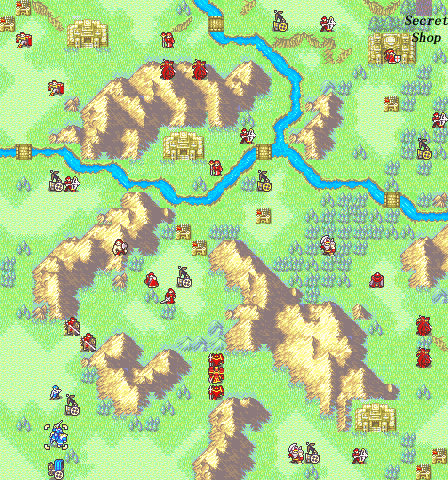 Game
Fire Emblem: Rekka no Ken
Objective
Seize Gate
Units Allowed
16
Units Gained
Renault (north west village, talk with anyone; he leaves when

reinforcements start appearing from the far north-west of the map)

Boss
Limstella
Background
Edit
Eliwood struggles to recover from Ninian's death and moves onward. His destination is the Dread Isle. An enemy waits there, one who must be defeated. Nergal surrounds himself with his morphs and waits for Eliwood's arrival. The final battle draws near…
Chapter Information
Edit
Victory or Death is chapter E30/H32 of Fire Emblem: Rekka no Ken.
This is the penultimate chapter in Fire Emblem: Rekka no Ken. The boss of this chapter is the morph Limstella, who has risked her life to wield the magic Fimbulvetr. The recluse bishop Renault is also gotten in this chapter, when visiting the upper left ruins.
In Hector's story, if this chapter is cleared in 20 turns or fewer, it will unlock Chapter 32x: The Value of Life.
Eliwood Mode
Edit
Initial Enemy
Edit
Reinforcements
Edit
If a unit passes the two fortresses in the divide: 2 Cavalier L16 w/ Steel Lance, 1 Paladin L8 w/Steel Lance
If a unit moves past the first peak in the western path: 2 Brigand L16 w/Steel Axe, 1 Warrior L8 w/Devil Axe
If a unit moves past the ballista near the starting point: 2 Nomad Trooper L8 w/Steel Bow, Steel Sword
If a unit moves past the fortresses near the seizing point: 1 General L8 w/Steel Lance, 4 Knight L16 w/Steel Lance
Turn 6 & 7 from the eastern mountains: 1 Brigand L16 w/Steel Axe
Turn 8 & 9 from the north west fortresses: 2 Falcon Knight L10 w/Steel Lance
Turn 9 & 10 near the central ballista: 1 Brigand L16 w/Steel Axe
Turn 9 & 10 south eastern fortresses: 2 Nomad Trooper L8 w/Steel Bow, Steel Sword
Turn 11 & 12 eastern mountains: 2 Wyvern Rider L16 w/Steel Lance, 1 Wyvern Lord L8 w/Steel Lance
Turn 11 & 12 north west fortresses: 1 Paladin L8 w/Steel Lance, 2 Cavalier L16 w/Steel Lance
Turn 15 & 16 fortresses near castle: 1 General L8 w/Steel Lance, 4 Knight L16 w/Steel Lance
Turn 15 & 16 twin fortresses in divide: 2 Cavalier L16 w/Steel Lance
Turn 25-27 south: 2 Wyvern Rider L16 w/Steel Lance
Turn 25-35 north west: 2 Falcon Knight L10 w/Steel Lance
Turn 25-35 south east fortresses: 2 Nomad Trooper L10 w/Steel Bow, Steel Sword
Turn 28 south: 2 Wyvern Rider L16 w/Steel Lance
Turn 28-35 twin fortresses in divide: 2 Cavalier L16 w/Steel Lance
Turn 30-35: 2 Wyvern Rider L16 w/Steel Lance
Hector Mode
Edit
Initial Enemy
Edit
Reinforcements
Edit
Items dropped by enemy
Items that you can steal from enemy
Village
Secret Shop (north east)