Ylisse
Talk

8
3,753pages on
this wiki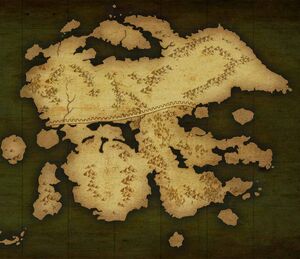 Ylisse
(
Iris
in the Japanese version) is the name of the continent on which the game
Fire Emblem: Awakening
takes place, as well as the name of the Halidom of
Ylisse
, one of the countries found on the continent. It is the future form of
Akaneia
from previous titles.
In the distant past, the Fell Dragon Grima attempted to destroy the world. However, their actions were stopped by the Divine Dragon Naga, who bestowed man with the power to seal away Grima. According to legends, Grima took on the form of a gigantic dragon, while Naga took on the form of a human.
Countries
Edit
The Halidom of Ylisse is located in the south eastern part of the continent. Its people worship the Divine Dragon Naga. At the start of the game, Emmeryn rules as Exalt, though Chrom succeeds her after her death.
Regna Ferox is located to the north and is divided in the west and east. It has two rulers; Flavia, the East-Khan, and Basilio, the West-Khan. Which of the khans holds sovereignty is decided by a great fighting tournament.
The Theocracy of Plegia is an aggressive nation located in the southwest. Its inhabitants worship Grima, the Fell Dragon, and it is home to the Grimleal. It was ruled by Gangrel and then Validar.