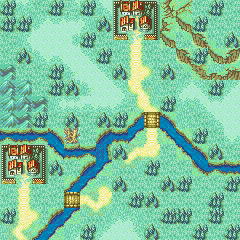 Za'ha Woods (Japanese: ザッハの古森, Zahha Woods) is a forest in eastern Renais, seemingly fairly populated, as there seems to be at least two villages within its vicinity.
In the main story, this is the first place Eirika's group encounters Monsters. Artur, a holy man, appears to destroy them. Eirika desires to help him and she and her companions cleanse the forest of Monsters.
Monsters appear here during the main story and Creature Campaign, they are generally of the weaker kind, such as Revenants and Mogall.
Ad blocker interference detected!
Wikia is a free-to-use site that makes money from advertising. We have a modified experience for viewers using ad blockers

Wikia is not accessible if you've made further modifications. Remove the custom ad blocker rule(s) and the page will load as expected.